De RSAC is dé studenten sportvereniging voor klimmers, boulderaars en andere bergliefhebbers. Samen met andere leden van de vereniging wordt er wekelijks geklommen en geboulderd. Daarnaast worden er klimweekenden, alpinismeweken, skicursus en andere activiteiten georganiseerd. Nog geen klimervaring? Geen probleem, met behulp van de cursussen die georganiseerd worden vlieg je zo de muur op!
Would you like this? Then contact us and join us on one of our climbing evenings on the Monday at Klimmuur Rotterdam or our bouldering evenings on the Thursday at Beest Boulders. Both evenings always start at 19:30. Everyone is welcome and experience is not necessary. In the meantime feel free to browse around the website and see what we have to offer.
With sporty regards, 
Christiaan Biesterbosch, on behalf of the board of RSAC
secretaris@rsac.alpenclub.nl
+31 6 54994112
Participate in one of our climbing courses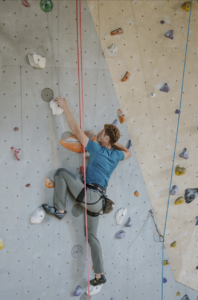 Beginner climbing course
Start your climbing career with a toprope course at the klimmuur. In september and october there are multiple beginner courses, after which you can climb independently in any climbing gym!
Outdoor climbing (OV single pitch course)
Make the transition from indoors to outdoors! During september and october we organise a climbing course during which you learn to lead climb single pitch routes outside. 
Boulder Thursdays
Elke donderdag om 19:30 boulderen bij Beest Boulders Rotterdam! Iedereen kan een keertje mee komen boulderen, van beginners tot gevorderden.
Climbing at Klimmuur Rotterdam
Elke maandag om 19:45 wordt er geklommen bij klimmuur Rotterdam.